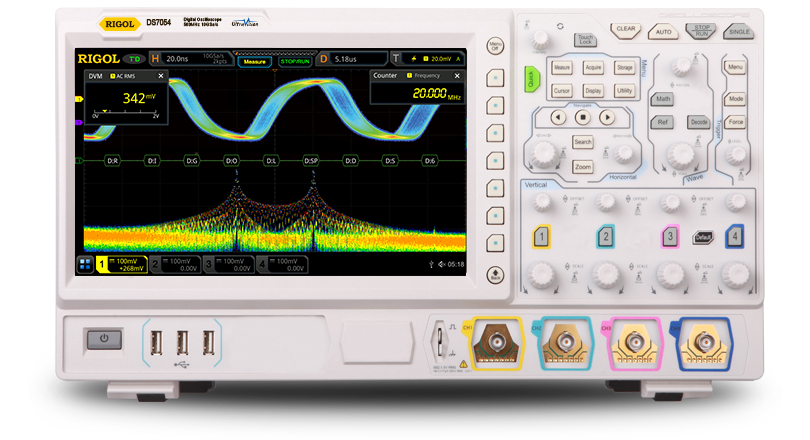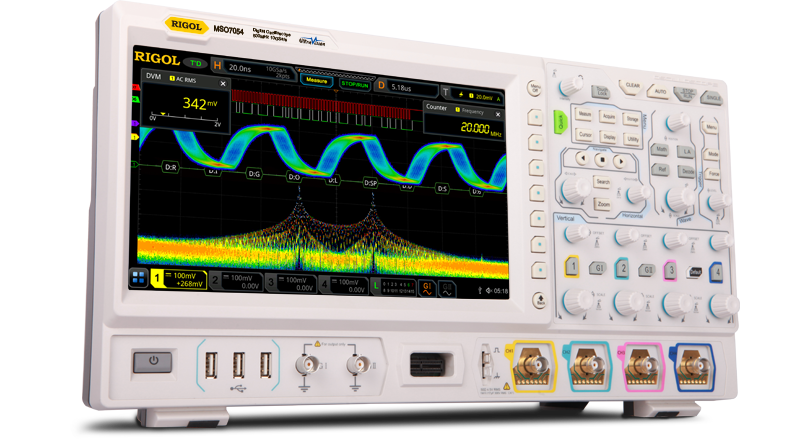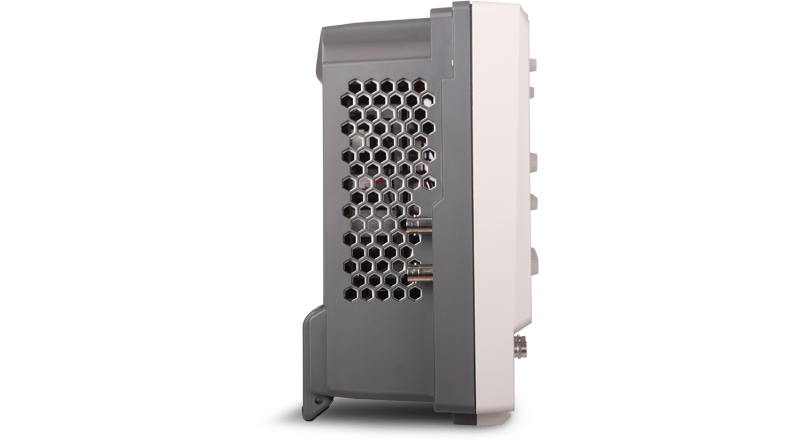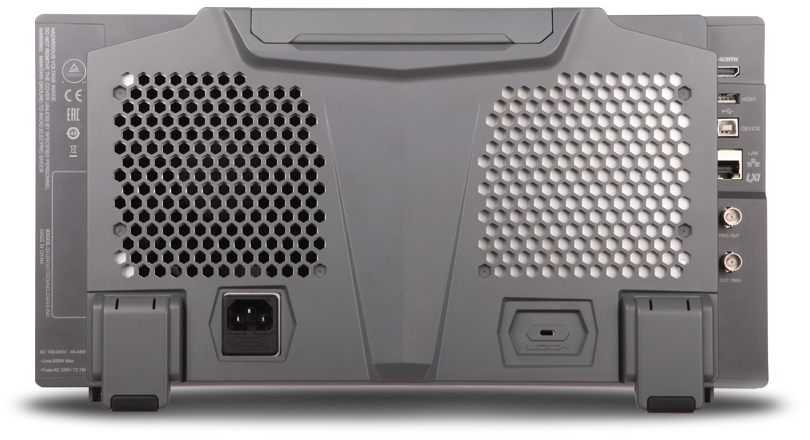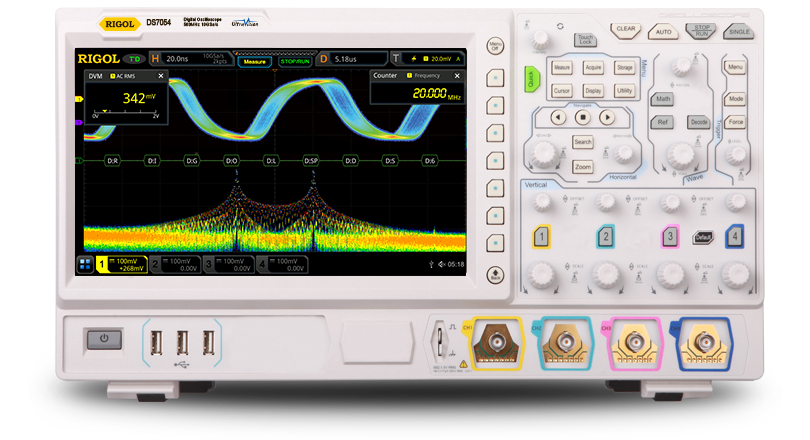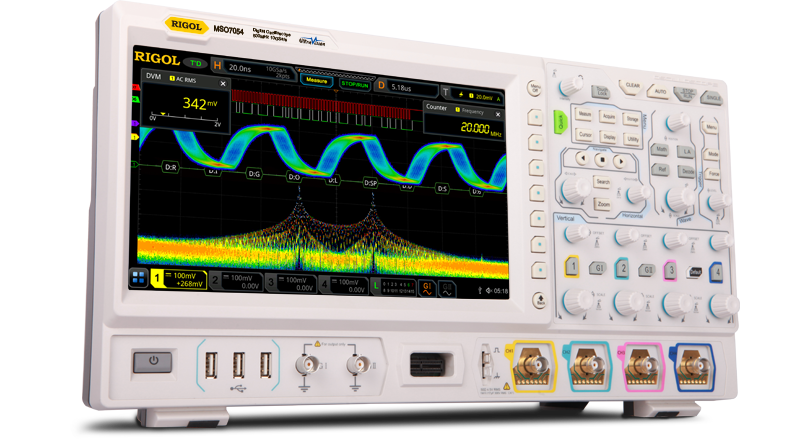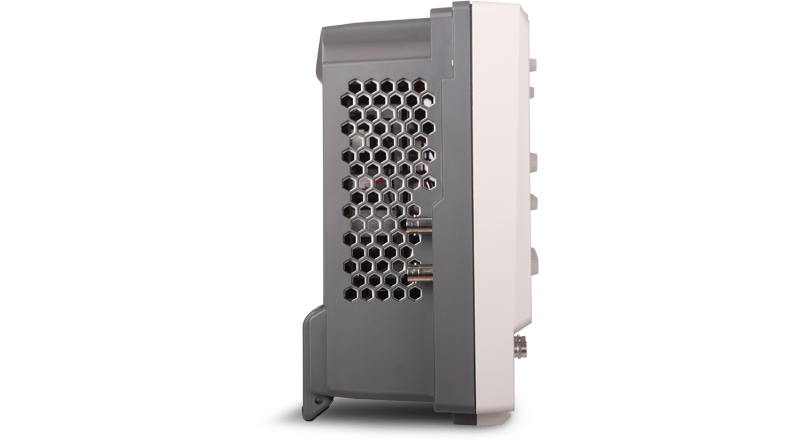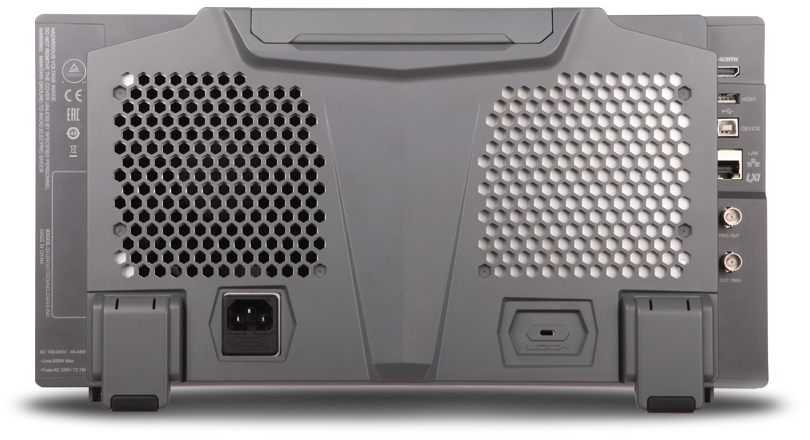 Digital Oscilloscope
MSO/DS7000 Series
The MSO/DS7000 series digital oscilloscope is a mid-end mixed-signal digital oscilloscope based on RIGOL's proprietary intellectual property ASIC chip and UltraVision II technology platform.
500Mpts(opt.)
Memory Depth
600,000 wfms/s
Waveform Capture Rate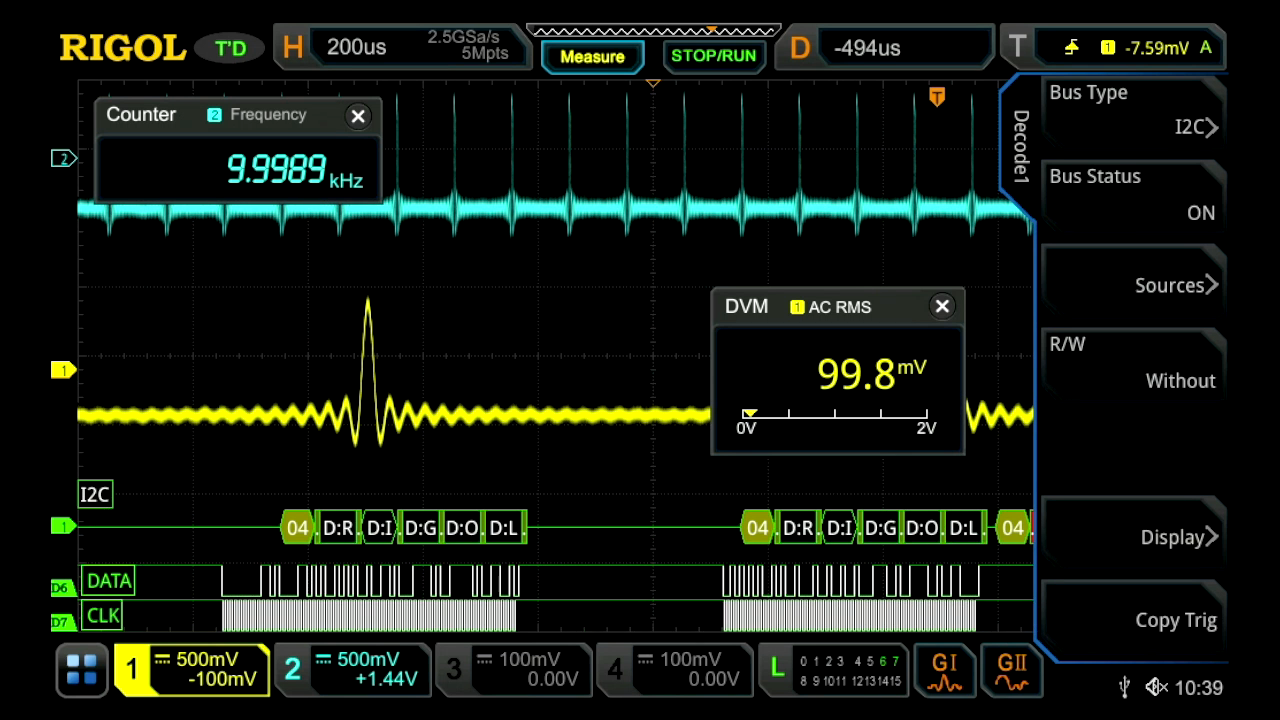 7 instruments in 1
Combine an Oscilloscope, Logic Analyzer, Protocol Analyzer, Waveform Generator, Voltmeter, and Counter/Totalizer in one instrument to quickly find answers to your measurement challenges.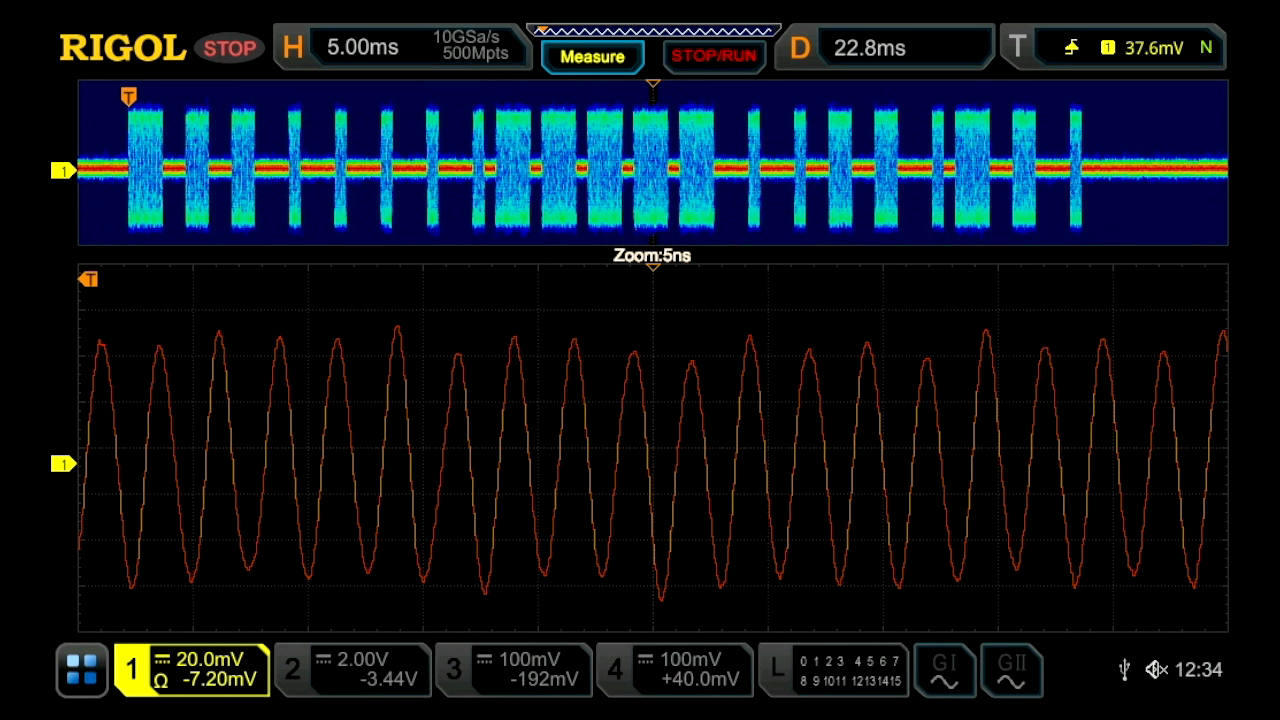 Long Record Length (100M std/500M opt)
Find elusive problems in complex digital streams with long acquisitions at high sample rates.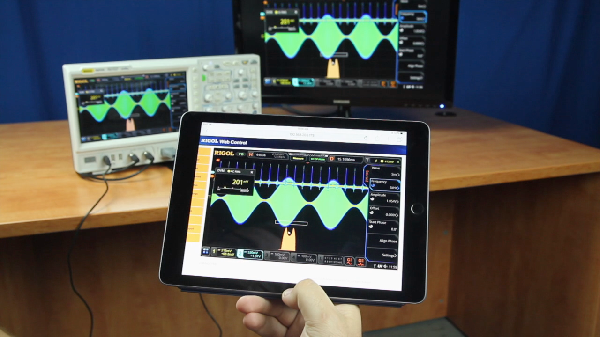 Flexible user interface combining touch, mouse, knob/button, web, and remote control
With a 10.1 inch touchscreen, full set of knobs and buttons, and mouse support the 7000 makes it easy to analyze signals whichever way works best in your lab. The included interactive browser control allows interactive control from a phone or tablet. PC software provides remote operation and control. The programming interface makes it possible to automate complex test sequences.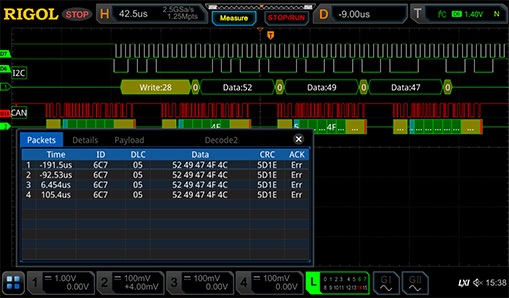 Protocol Analysis for today's common serial communication buses
Trigger, decode, and visualize serial bus traffic to speed analysis and debug of Embedded Serial Bus designs.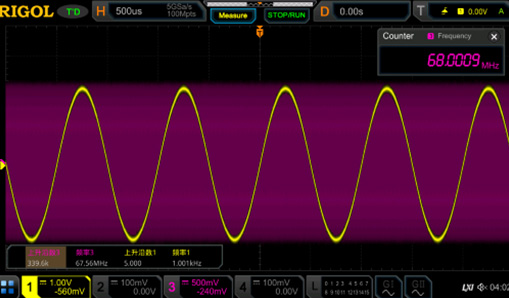 Full Memory Hardware Measurement
No longer limited to the waveform effects visible on the screen, the results can still be accurately obtained for multi-cycle high-frequency signal testing.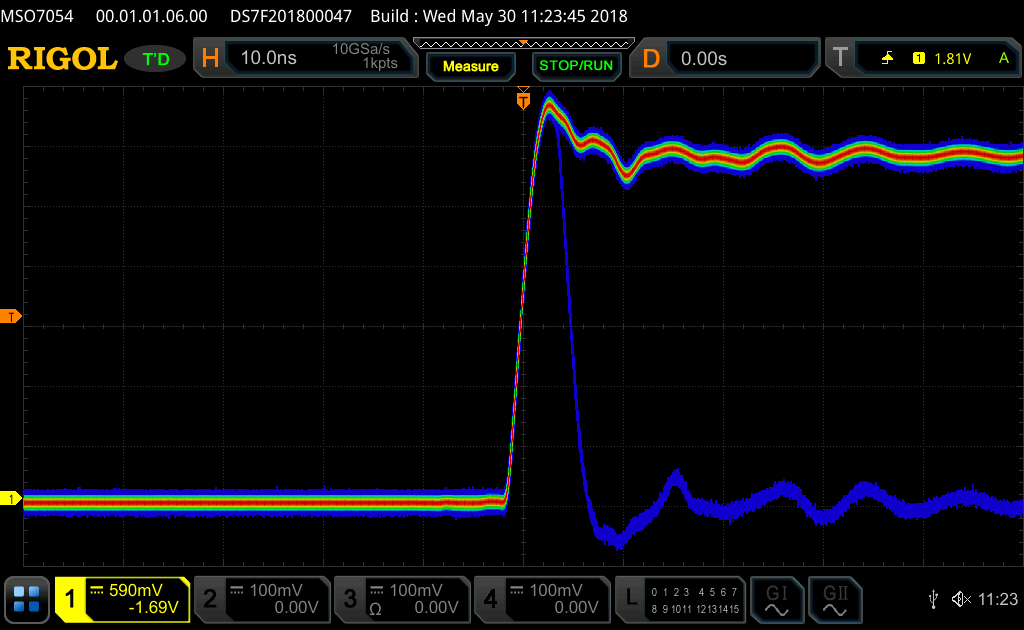 Over 600K wfms/s Waveform Capture rate
Minimize scope "dead time" between trigger events and increase observations of random and sporadic events.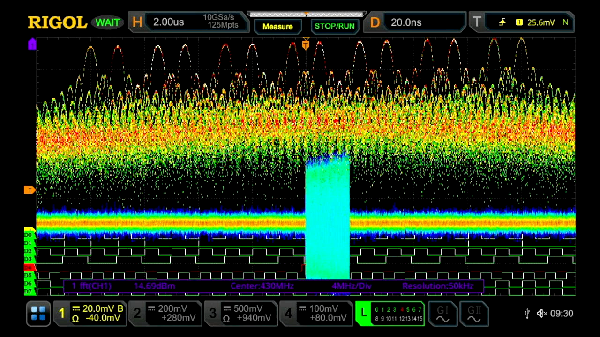 Enhanced Color FFT
The FFT capability on the 7000 utilizes up to 1 million points for fine resolution. The 7000 Series advanced user controls makes it easier to find signals of interest in the frequency domain. The color FFT function provides a probability colorization that highlights transient and hopping RF signals much like a real-time spectrum analyzer.
MODEL

BANDWIDTH

ANALOG CHANNELS

REAL-TIME SAMPLE RATE

MAX. MEMORY DEPTH

WAVEFORM CAPTURE RATE

DIGITAL CHANNELS

BUILT-IN SIGNAL SOURCE

PRICE

MSO7054

500MHz

4

10GSa/s

500Mpts(opt.)

600,000 wfms/s

16

2CH

MSO7034

350MHz

4

10GSa/s

500Mpts(opt.)

600,000 wfms/s

16

2CH

MSO7024

200MHz

4

10GSa/s

500Mpts(opt.)

600,000 wfms/s

16

2CH

MSO7014

100MHz

4

10GSa/s

500Mpts(opt.)

600,000 wfms/s

16

2CH

DS7054

500MHz

4

10GSa/s

500Mpts(opt.)

600,000 wfms/s

-

-

DS7034

350MHz

4

10GSa/s

500Mpts(opt.)

600,000 wfms/s

-

-

DS7024

200MHz

4

10GSa/s

500Mpts(opt.)

600,000 wfms/s

-

-

DS7014

100MHz

4

10GSa/s

500Mpts(opt.)

600,000 wfms/s

-

-

BANDWIDTH UPGRADE
DS7000-BW2T5
200MHz upgrade to 500MHzBandwidth Upgrade options
DS7000-BW3T5
350MHz upgrade to 500MHzBandwidth Upgrade options
DS7000-BW2T3
200MHz upgrade to 350MHzBandwidth Upgrade options
DS7000-BW1T5
100MHz upgrade to 500MHzBandwidth Upgrade options
DS7000-BW1T3
100MHz upgrade to 350MHzBandwidth Upgrade options
DS7000-BW1T2
100MHz upgrade to 200MHzBandwidth Upgrade options
FUNCTIONAL OPTIONS
DS7000-BND
Bundle options, including all serial protocol analysis options and measurement application options
MSO7000-AWG
2CH 25MHz Arbitrary wave generator
DS7000-PWR
Built-in power analysis software
DS7000-AERO
MIL-STD1553 bus trigger and analysis
DS7000-AUDIO
Audio serial bus triggering and analysis(I2S)
DS7000-FLEX
Automotive serial bus triggering and analysis(FlexRay)
DS7000-AUTO
Automotive serial bus triggering and analysis(CAN/LIN)
DS7000-EMBD
Embedded serial bus triggering and analysis(I2C/SPI)
DS7000-COMP
Computer serial bus triggering and analysis(RS232/UART)
DS7000-5RL
500Mpts Record length option
DS7000-2RL
250Mpts Record length option
ACCESSORIES
CB-USBA-USBB-FF-150
USB Data line,150cm
CB-DB9-DB9-FF-150
RS232 Data line,2 Female,150cm
CB-BNC-BNC-MM-100
BNC Coaxial line,100cm
NFP-3
Near field probe,Frequency range: 30 MHz to 3 GHz
T2R1000
T2R1000 probe interface adapter
SOFTWARE
UPA-DS
Power analysis software
FIRMWARE DOWNLOAD
NAME
VERSION
RELEASE DATE
DOWNLOAD
V00.01.02.01.03
2021-11-01
SOFTWARE DOWNLOAD
NAME
VERSION
RELEASE DATE
DOWNLOAD

Hotline

Send Email

Feedback

Services Center