RIGOL Office Tour・Inspiration for Engineers

2021-08-12

1


RIGOL Office Tour・Inspiration for engineers 
Office Upgrade
Suzhou, China, July 2021 – RIGOL Technologies, a world-leading provider of test and measurement instruments and solutions, recently upgraded an office at its headquarters, enhancing the working atmosphere dramatically. The office is located on the third floor of RIGOL's headquarters building. The room is transparent and can accommodate more than 40 people. In addition, the office is decorated in yellow-white-blue colors, vibrant but straightforward, to match the headquarters' modern fashion design style.
By improving the office environment, RIGOL intends to boost employee happiness and sense of belonging, as well as foster creativity and cross-pollination of ideas, so that everyone is more enthusiastic about their work.
So, let's take this opportunity to have an office tour!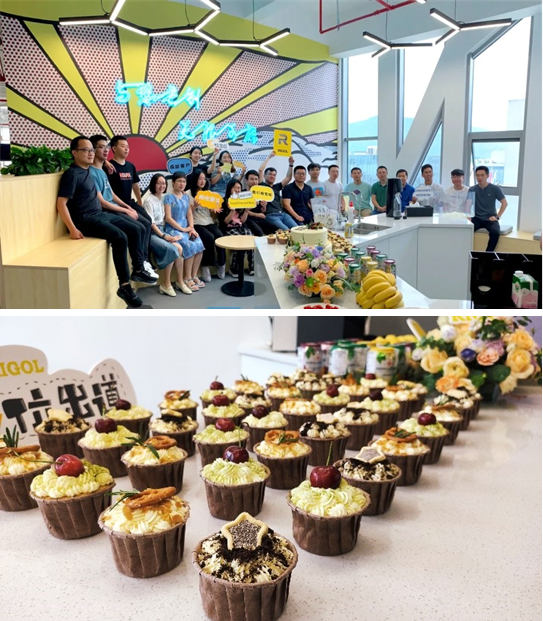 R-shaped Logo Wall
The first thing you notice as you walk into the workplace is the massive R-shaped logo wall, which is visually stunning. The colors of the sign wall and the backdrop wall complement each other, creating a technologically advanced environment and reflecting RIGOL's strong corporate culture.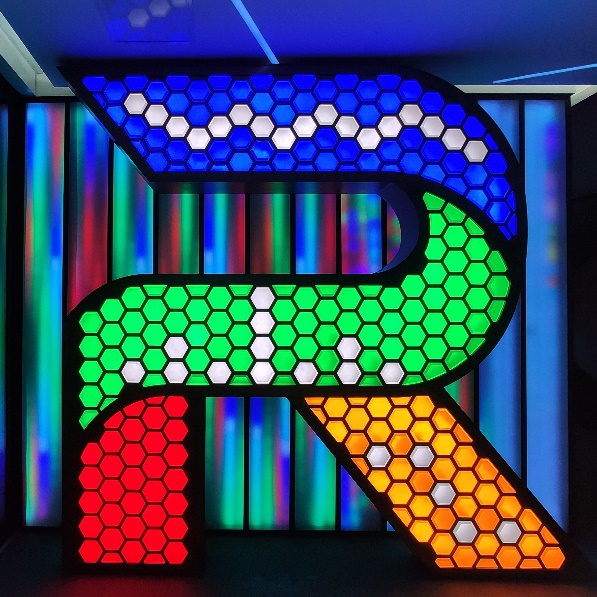 The logo is composed of four colors: blue, green, yellow, and red, representing the RIGOL spirit of "Unity, Perseverance, Wisdom, and Brave". The white ripples represent the time domain, frequency domain, and fast-edge waveforms. The meanings of these elements align with the RIGOL mission of "Enabling Technology Exploration, Empowering Possible and More".
Comic Wall
A comic wall with a picture of the rising sun, along with a neon sign designed by RIGOL President Rico Wang, symbolizes hope for a new life and expresses Rico's ardent expectations and best wishes to employees.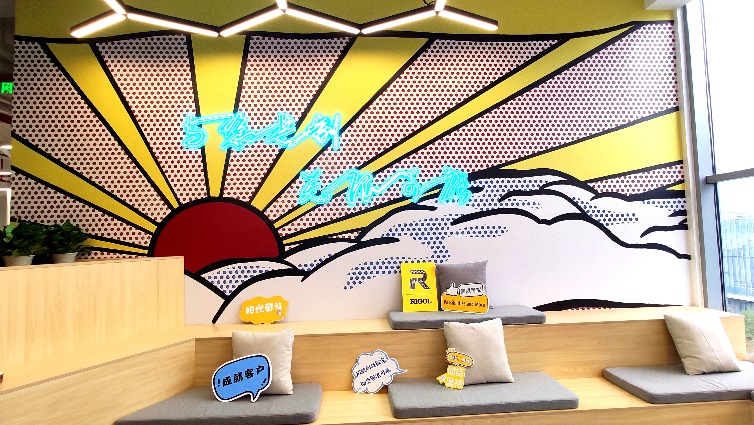 Smiley Wall
The smiley wall is made up of employee photos. It highlights the home-like working atmosphere at RIGOL and enhances the sense of belonging among RIGOL employees.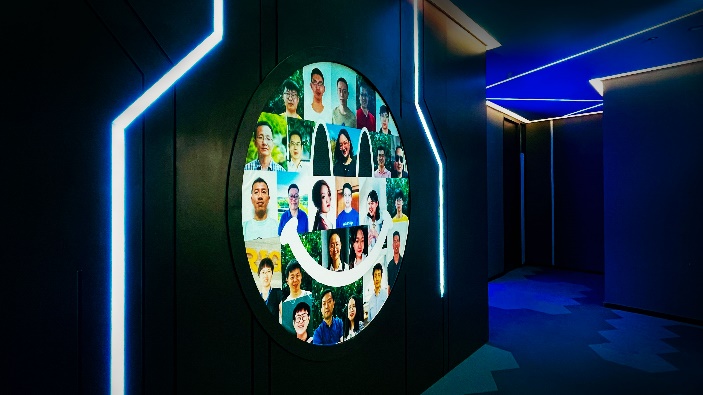 Lounge Bar
A coffee machine, direct drinking water, ice machine, soda machine, and refrigerator are all available at the lounge bar. Coffee, beverages, and snacks are served throughout the day.

Office area
Without clear space division, the entire office area is open and transparent. In addition, the honeycomb structure of desks is intended to conduct communication between employees and encourage employees to inspire each other.

Meeting Room
Red, yellow, and blue make up the majority of the meeting room's color scheme. Employees can also enjoy the gorgeous scenery outside the window while working in a relaxed and pleasant environment. RIGOL believes that a comfortable and bright meeting environment can arouse employees' creative ideas and inspire everyone's excitement for conversation. 

Sky Garden
This beautiful sky garden is positioned at the end of the office and connects the other office area in RIGOL headquarters. In addition, there is an open tea area in the garden that provides staff with a quiet and comfortable spot to rest.

Join Us
RIGOL always pays excellent attention to the cultivation and development of talents, and strives to create a better working environment for engineers. The upgrade this time is to enable engineers to work more vigorously and passionately and let engineers treat work and life with more enthusiasm. At the same time, RIGOL's recruitment plan has never stopped. We welcome like-minded and passionate partners to join RIGOL. Let us work together to create infinite possibilities in the future!